Mona Charen
Mona Charen is a syndicated columnist and political analyst living in the Washington, D.C.-area native, she received her undergraduate degree at Barnard College, Columbia University and holds a degree in law from George Washington University. She began her career at National Review magazine, where she served as editorial assistant.
In 1984, Ms. Charen joined the White House staff, serving first as Nancy Reagan's speechwriter and later as associate director of the Office of Public Liaison. She launched her syndicated column in 1987 and it is now featured in more than 200 papers, including the Boston Globe, Baltimore Sun, St. Louis Post-Dispatch, Atlanta Journal-Constitution, and The Washington Times. Ms. Charen spent six years as a regular commentator on CNN's "Capital Gang" and "Capital Gang Sunday," and has served as a judge of the Pulitzer Prizes. Mona is married with three children.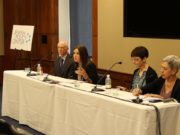 The timely event focused on the First Amendment under siege and antisemitism in academia.
College campuses, like the rest of American society, are struggling to contain the wreckage of the sexual revolution. Neither men nor women are happy with the chaotic and utterly unromantic world they've inherited. It's a culture of drunken hook-ups and "booty calls," where traditional courtship is dead and even dating is rare. In pop culture, […]
Until the 2014 election, Democratic politicians thought they had discovered the key to women's desires, at least to their political longings: a single-minded focus on the gynecological. As in past contests, Democrats conjured monsters to destroy. In the Democrats' ghoulish caricature, Republicans were not just wrong on the issues that women care about, but were […]